December 17th, 2013
Readme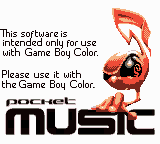 Pocket Music for Gameboy Color refuses to run on GBA. It shows a screen similar to when you run the game on a monochrome Gameboy, saying "this game is intended only for use with a Gameboy Color."
Maybe they decided to do this because the sample playback sounds like crap on GBA. This patch fixes both those problems. It bypasses the GBA check so you can use Pocket Music on GBA, and it uses my "antispike" fix (also seen in LSDj) to almost completely remove the whine from the sample playback.
Use an IPS patcher to apply the patch to the Pocket Music GBC ROM.
One Response to "Pocket Music GBC version GBA fix"
Y8 says:
December 19th, 2013 at 10:42 am

Thanks. Downloading right now….
Leave a Reply