July 23rd, 2007
Pour les Francophones il y a aussi un article sur la musique Gameboy (Et des autres consoles de jeu) ici, écrit par Bobby Sixkilla.
This is a guide that I'm compiling to help people get started with Gameboy music and get an overview of some of the tools that exist for Gameboy music making. This page is inspired by this C64 music guide by

GOTO80.
This page is and will always be work in progress, as some information gets old after a while. If you feel that some information is inaccurate, outdated or if something is missing, leave a comment, and I'll fix it.
Why Gameboy music? You might like the raw, (It's raw because of the lack of any hardware filtering) digital sound that comes out from the little box, but the biggest advantage is perhaps that it's pocket-sized, so you can bring it everywhere. Don't be ashamed to track a tune on the bus or on the beach. (Thanks Rabato for the pic!) I know I'm not!
Software
Although there are other programs such as Carillon and Paragon5 tracker, the preferred tools Gameboy musicians today are Little Sound Dj (LSDj) and Nanoloop. That is so because Carillon and P5tracker focus on playback in games/demos, whereas LSDj and Nanoloop focuses on live/studio playback.
There are some simpler and less known programs, like pounder, stepgirl and pixelh8 music tech, which are covered below.
Both Little Sound Dj and Nanoloop are available as demo version ROMs, see their respective pages for details.
Little Sound Dj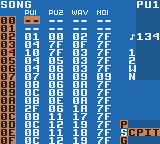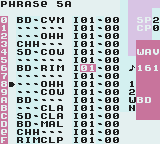 Little Sound Dj and Nanoloop differ in the construction of the programs. Little Sound Dj is a so called tracker which means that the interface consists of a number of rows where you can enter note data and effects commands, which is then played back from top to bottom. Some people find this system confusing, but it's quite easy when you get the hang of it. To name a few other features, LSDj can play samples, has a subtractive synth (Technically it's actually an additive synth) and has advanced table functionality.
The samples included in LSDj are mainly drums from drum machines in the standard version, but you can add any sample you wish with a special application.
LSDj cartridges are no longer being produced, and there are no plans to start the production again. Instead you can buy a license for the ROM image, which you can use in an emulator or burn to flash cartridge. (See below for information about both things)
Little Sond Dj cam be obtained from the official home page for a donation of US$1 and up ($10 or more recommended if you wih to support Johan and keep the development of the application alive)
Nanoloop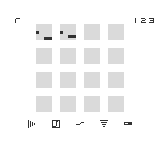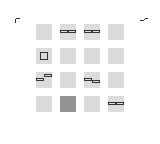 Nanoloop on the other hand has an interface which is probably less powerful but a lot more intuitive. Nanoloop is a step sequencer in 16 steps, organized in a cube. Notes and effects are entered by moving little boxes.
As far as I know, nanoloop was originally developed as an experiment about user interfaces and usability about software. In Nanoloop, everything is graphical, as opposed to LSDj's very text/number-influenced interface. Although LSDj is considered generally more powerful and versatile than Nanoloop, Nanoloop can make some interesting stuff due its unique FM and subtractive synth algorithms.
There are two major versions of Nanoloop, 1.x for older Gameboys, and 2.x for the Gameboy Advance generation hardware. Both have a similar user interface, but differ somewhat because of different hardware capabilities.
Nanoloop is only being on a cartridge, and the ROM is not for sale. Right now the cartridges are sold out, but rumour has it that Nanoloop will be for sale again at the end of July. Keep an eye on their shop, if you're interested in Nanoloop.
Of course you can look for used cartridges on ebay.
Other software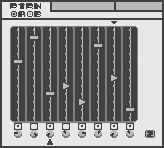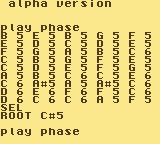 There a few other interesting, but often forgotten pieces of free Gameboy music software.
8cylinder has made a few interesting pieces of software, like Sludgeon, a step sequencer, and Pounder! a crazy live drum performance program.
I also like Stepgirl and Muddy GB which are two similar programs that let you play the Gameboy truly live, by doing chord scales. Here's a cool video of karawapo using MuddyGB, so you can get an idea of how it works.
A simple but nice program in this category is also Electric Drum by Aleksi Eeben. (Click download, then find the file electridrum.zip in that archive) It's a simple but nice live drum machine using the Gameboy's sound chip to produce the sound. (As opposed to using sampled drums)
The last program I'll mention isn't free, as opposed to the other software in this category. It's called PixelH8 music tech and is a synthesizer that you play using the Gameboy's keys. It's being sold as a ROM image, and soon cartidges will be offered as well. You can watch a demo of it on youtube or buy the ROM/reserve a cartridge. (Where you can also try the program online)
The easy/lame way: Emulation on your PC
If you feel that don't want to go through the hassle of getting a flash cartridge, or you just want to try things out, you can try running the Gameboy software in an emulator. The big disadvantage with emulation is the sound. Most emulators won't emulate the sound properly. Most notably some emulators will remove the unique character of the GB's noise channel.
Two emulators that are known to work pretty well with LSDj are VisualBoy Advance and BGB. BGB also has debugging functions in the style of no$gmb, for those who need it, but without the limitations and inaccuracies of no$gmb.
The hard/bad way: Emulation on handhelds
Emulation is not just for your PC. In some cases it can also be a suitable solution for incompatible handhelds. There are emulators for consoles such as the GBA, the NDS, the PSP and the GP.
Gameboy emulation on the GBA is not too good, but necessary if you want to run the software on GBA micro or NDS. (These machines can not run classic Gameboy software natively, but require an emulator)
Emulation on handhelds is not my area of expertise, but here are some links and advice I've collected:
If you know more than about the subject, or if I'm wrong about something, please feel free to correct me or add information. This section is very incomplete for now.
The hard/good way: Flash cartridges
The coolest way to do GB music is without doubt on an actual Gameboy, and the best way of doing that is with a Gameboy flash cartridge. (Except in the cases of Nanoloop and pixelh8 musictech, these programs are sold on cartridges already)
There are several brands of so called backup systems around, and here's a quick overview of some of them:
For sale! GB transferer: This is the recommended system as of today. It's being sold by several online shops, and works well with LSDj and other music software.
These shops are known to sell the Gameboy Transferer and cartridges:
Rob Webb's shop (UK) Rob Webb has been around forever and has a good reputation.
Nonfinite's shop (US) Nonfinite has been selling custom painted Gameboys for some time now and has recently begun selling backup gear as well. Feedback thread for Nonfinite on 8bc.
Kitsch-Bent's shop (US) Kitsch-Bent is a new kid on the block, but has got good feedback on 8bc so far. Feedback thread for Kitsch-Bent on 8bc.
HKEMS (Hong Kong) HKEMS sells transferers, and are also known to accept bulk orders for cartridges. However, keep in mind that HKEMS prefers bank wire transfers, and your bank may potentially charge you a very high fee for the money transfer to Hong Kong. So please check that before ordering.

All in all I recommend everyone to compare the available shops, taking combo discounts, mass order discounts, shipping, possible import taxes and bank fees into account.
It is also a good idea to post feedback, negative or positive, in the feedback forum on 8bitcollective, to help others.

Bung Xchanger: This is seen by many people as the ultimate backup system, but unfortunately Bung is long since dead because of a lawsuit, and this system is hard to find.
PC Linker: This cartridge type works with LSDj, but does not have support for the file saving functions. It's probably not sold new any longer.
José Torres' USB cartridge: This one is still work in progress, but it looks promising. When it's done, it'll be backup cartridge for Gameboy classic/color with USB support for easy upload. I'll definitely keep an eye on it and see how it progresses.
Gameboys
Choosing the right hardware is essential for getting the sound that you want. Although you may not think so, different models vary vastly in terms of sound quality and noise. And even for the same model, sound can vary alot between units. For example I have two DMG's (The big, usually gray one) of which one has a really low output, that I almost can't hear, and the other has such a loud output that it almost hurts my ears when using headphones.
In my opinion, DMG is the preferred model. (Warm, loud sound) Second is GBA which has a bit sharper sound, and also a bit more bass, but has a bug concerning the playback of wave samples. Gameboy Color (GBC) should generally be avoided, unless ProSound modified.
For a more scientific approach, please see Herbert Weixelbaum's Gameboy sound comparison page, which thoroughly compares all known Gameboy models, and also shows the waveform that each model outputs.
It's a recommended read if you're serious about choosing the right model.
One step further: mods and external hardware
Section about mods and gadgets. (Coming soon!)
46 Responses to "Gameboy music how-to"
Leave a Reply