November 28th, 2007
This is a guide inspired by and loosely based on this Pushpin guide. However, there are a couple of things that I'd like to remark on, and one thing that is actually plain wrong.
Update: I built and tested my interface, and it didn't work out as I wanted it to. I will do more thorough troubleshooting in a few days. You can read the full build report here.
If you bought the components listed below, you may want to wait a little for further instructions before you build it. Some things may be wrong in that schematic (Most probably resistor values.)

Update 2: I've made a new schematic based on a working device built by Bill Byrne/PLI. You can see how it looks here: http://www.billbyrne.net/pushpinworks.jpg

Finding the right link cable
First you need a link cable to use for the interface. There are special requirements for the cable. It has to have cables for all six of the pins, and it has to fit the Gameboy Color link socket. This means that neither a big plug, as used for DMG's (Grey Gameboys) or a GBA only plug with an extra piece of plastic, can be used.
What this means in terms of finding the right cable, is that it's a bit of a gamble to find the right one. One thing is for sure though: Stay away from Nintendo's official Gamelink cables. They're guaranteed not to have wires to all 6 pins. Look for a 3rd party cable instead. Some cables are sold as GBA cables but can in fact in fact be plugged into a GBC socket.
The picture farther down shows a working cable with pinouts. Ans easy way to tell that a cable is not working, is if there's no connector for the 5 V and SD pins.
If you find a source for working cables, please leave a comment!
Getting access to the wires in the cable
You can just cut the cable in the middle if you want to, but my cable also has a little plastic box where the cable is split three ways, two GBC plugs, and one DMG plug. I will try to re-use for the circuit, if I can get it small enogh to fit into it.
The best way to open a little box like this one is to force something sharp, like scalpel between the two pieces and force them apart. I don't have scalpel, so the next to best option for me use a screwdriver. I couldn't fit it in the gap, so instead I applied quite large amount of pressure in the center of it, which made the pieces come apart, at the expense of a small piece of plastic. However, this piece wasn't critical and I can still put the pieces together.
Tracing the wires in the cable
The other guide that I linked to in the beginning of the document, says you can find the +5 V line by probing different lines and looking for a 5 V difference. Unfortunately, this is plain wrong. In fact, when checking with a voltmeter, all pins are 5 V relative the ground. The reason for this is that every input pin has a pull up resistor, and the SOUT (Signal out) line has a default value of 1, even when Pushpin has been started.
A more accurate way of tracing the wires is to set your multimeter to diode mode. This mode lets you test for circuits. If you put the probes at two places that are connected to each other, it will give an indication. Most multimeters will even beep when you have a circuit. Put it in diode mode and short the probes against each other to see if this is true for yours.
Then put one of the probes to the pin you want to test, and poke around with other one to try to find the corresponding cable. Take notes of the colors of the cables and which pin they correspond to. Double check if needed.
The pins of interest for the MIDI interface are 5 V, SD and Gnd.
Schematic and parts list for the conversion circuit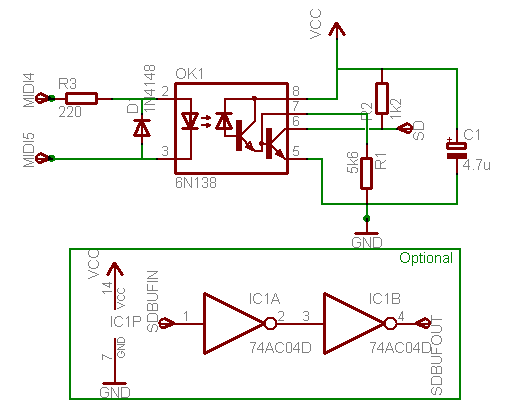 Schematic update January 16: The resistor values are changed to match Bill Byrne's values.
The capacitor value is slightly increased as well. This is only a recommendation. 4.7 µF should be seen as a minimum value.
There's also a new, optional, circuit which is an inverter circuit that works as a buffer. It should be more stable, however Bill's device worked without it. Perhaps the resistor values need to be updated if you're using the buffer. If you don't want to use it, connect SD in the schematic to the cable leading to the SD pin on the cable. If you want to use it, connect SD in the schematic to SDBUFIN and connect SDBUFOUT to the SD pin. Ignore the weird "74AC04D" value in the schematic. The correct value is 74hc04 (Or a variant thereof)
To clear up any possible confusion about the R3 resistor: It should be a 220 Ohm, not a 200 kOhm resistor. 200 kOhm is far too big and will completely block the signal.
Part list:
| | | | |
| --- | --- | --- | --- |
| Pcs | What? | Value | Digikey# |
| 1 | Opto-coupler | 6N138 | 6N138QT-ND |
| 1 | Hex inverter | 74HC04 | — |
| 1 | Diode | 1N4148 | 1N4148FS-ND |
| 1 | Resistor | 220 Ohm | P220CACT-ND |
| 1 | Resistor | 1.2 kOhm | — |
| 1 | Resistor | 5.6 kOhm | — |
| 1 | Capacitor | 4.7 µF (Guideline) | — |
Update January 16: I'm dropping the Digiky numbers for new components.
A little disclaimer here. I haven't yet built this circuit. (I only learned about it today, November 27, and I don't have all the parts at hand) And I certainly haven't bought anything from Digikey. But according to the best of my electronic knowledge, the circuit, as outlined above, should work just fine, and the Digikey links are my recommendations from what I can read in their descriptions. I do however not give any total guarantees that I'm right until I've built the circuit myself.
And likewise, until I get a chance to build it, you'll have to interpret the schematic yourself. You might want to buy some prototype PCB's, "Veroboard".
27 Responses to "How to build a MIDI interface for Pushpin"
Leave a Reply