February 5th, 2011
(Mixed language post. Swedish=blue left border. English=red left border. Warning! No hotlinking, unless you have a goatse fetish!)
June 15th, 2008
This post is in Swedish and concerns a Swedish bill of legislation that would potentially give the government access to just about all internet traffic in Sweden, without the need of a court order or a specific crime suspicion.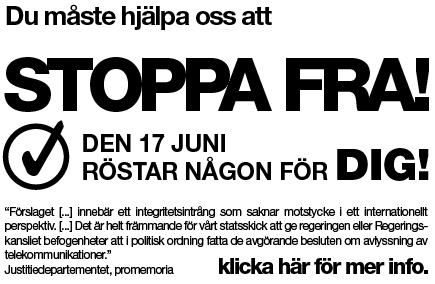 Utifall att du har missat det så kommer riksdagen den 18 juli att rösta om den s.k. FRA-lagen. Det är en lag som syftar till att legalisera de lagbrott som redan utförs av FRA.
Om förslaget går igenom får FRA rätt att filtrera all kabelbunden trafik som går över landets gränser. (T ex telefoni och internet-trafik) Tvärtemot vad man kan tro går även en stor del av "inrikes-trafiken" en tur ut ur landet och kan således övervakas om förslaget går igenom.
Förslaget sägs skydda mot "yttre hot", men ingenstans finns en konkret beskrivning av vad dessa hot består i. Och ingenstans beskrivs det hur övervakningen faktiskt ska skydda landet. (De som kan tänkas utgöra dessa "yttre hot" har nog redan idag självbevarelsedrift nog att kryptera sin trafik)
Det finns en stor risk för ändamålsglidning när lagen väl har genomförts och övervakningsutrustningen finns på plats. Ge den 5 år och jag är övertygad om att den kommer att användas för att fånga musikpirater på order av STIM och RIAA.
Onsdag 18 juni sker omröstningen i riksdagen. 8.00 på morgonen samma dag sker en demonstration utanför riksdagshuset till försvar för den personliga integriteten. Endast fyra ytterligare nej-röster behövs för att sänka förslaget.
Jag kommer vara där och visa mitt stöd. Du är också välkommen!
Länkar:
Stoppa FRA-lagen (Info-sida)
Tal av Rickard Falkvinge (Ledare för Piratpartiet)
Blogge Bloggelito's post ang. "Bloggbävningen" kring FRA-lagförslaget
April 8th, 2007
This Swedish post was meant for a couple of guys I met on a subway station. For you English speakers, this blog will mainly be in English, and anything of interest in this post will be covered later on in the blog.
Chansen finns att ni faktiskt går in på sidan, hehe. Antingen tycker ni detta är skitcoolt, eller att jag är jättetöntig. (Eller både och bara att ni inte vågar erkänna det första.)
Vad ska jag göra med det genomskinliga påskägget, då? Jo jag har byggt en sån här:
… som låter så här.
Och en sån ska jag alltså bygga i påskägget. Varför i ett genomskinligt påskägg? Jo, jag gillar genomskinliga saker eftersom man kan bygga in lysdioder i dem, som lyser så snyggt. Kolla bara på mina Gameboys, som jag gör musik med:
Så, lämna gärna en kommentar nu, så jag vet att ni hittade rätt. (: (Och sen kan ni fortsätta flina)